The SAM Awards Reveals Nominees And Event Details For 2020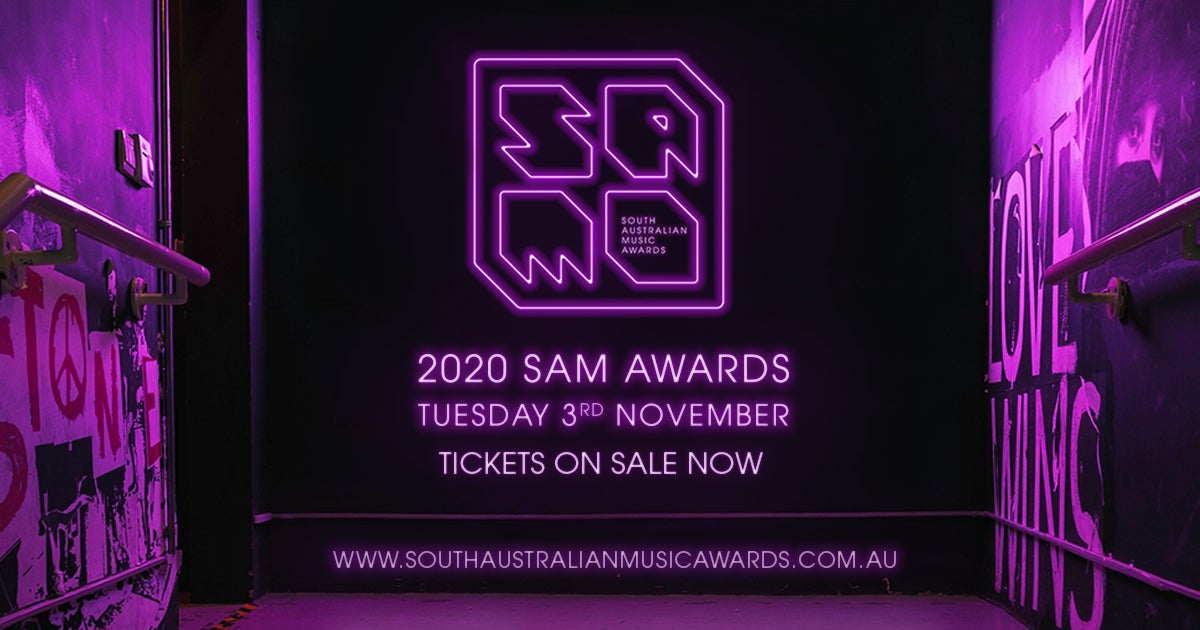 Music SA has today revealed their nominees for this year's South Australian Music (SAM) Awards, along with the all-important venue and event details for the ceremony in November.
The SAM Awards will take place at the University of Adelaide's Cloisters and Lawns alongside the UNIBar and will be one of the only awards ceremonies that can take place with an audience during Australian Music Month.
Nominees for the awards include a bunch of first-time entrants like EAST AV3, J-MILLA and SEABASS. The People's Choice Awards finalists have also been announced, featuring a host of winners from last year including TOWNS, Jess Day and Horror My Friend. Check out the full list of nominees below.
Tickets for the 2020 SAM Awards are on sale now.
2020 SAM AWARDS
Tuesday 3 November 2020 | UniBar Adelaide, Cloisters and Lawns Kaurna Land.


2020 SOUTH AUSTRALIAN MUSIC AWARDS NOMINEES
INDUSTRY VOTED AWARDS
BEST STUDIO (Presented by Adelaide Music Collective)
Adelaide Recording Studios
Ghostnote
Island Recording Studios
Spare Second Studio
Stone Shed Studio
Wundenbergs Recording and Rehearsal Studio
BEST STUDIO ENGINEER (Presented by SAE Institute Adelaide)
Chris Panousakis
Kiah Gossner
Jimmy Balderston
Lewis Wundenberg
Mario Spate
BEST LIVE TECHNICIAN (Presented by Novatech)
Lisa Lane-Collins
Luke Hancock
Noni Espinosa
Patrick Lockwood
Peter Wing
BEST MAJOR FESTIVAL/EVENT (Presented by Pirate Life)
Day of Clarity
Porchland
St Jerome's Laneway Festival - Adelaide
Thebartonia
BEST SMALL FESTIVAL/EVENT (Presented by UniBar Adelaide)
Field Good Festival
Freefall Festival
PAK: Live at Wundenbergs
Stonecutters
The Porch Sessions
BEST VENUE (Presented by AHA - SA Branch )
Crown and Anchor Hotel
Grace Emily Hotel
Jive
Lion Arts Factory
The Wheatsheaf Hotel
BEST COVER ART (Presented by Version Design)
Dave Court (DyspOra)- AUSTRALIEN
Jack Fenby (Cat Lucky) - Pressure (Everybody Wants To Know You)
Jack Fenby (The Empty Threats) - $2
Julie Thornberg-Thorsoe (Kaurna Cronin) - Glitter or Dust
Todd Fischer (Lost Woods) - Shaping Distant Memories
BEST MANAGER (Presented by Association of Artist Managers)
Alex Karatassa
Diana Sautelle
Matthew Khabbaz
Planet shhh!
Sue Germein
BEST MUSIC VIDEO (Presented by Channel 44)
Bottleneck Studios (Uomo) - All I Hear
EAST AV3 - Le Labo
Harry Nelli (Venice Queens) - Punchdrunk
Lonelyspeck - My Angel Goes Before Me
Motez, Pilot Studio, Mapped Design, Daggers Production, Kelsee Pedler (Motez) - Soulitude
BEST SONG (Presented by APRA AMCOS)
EAST AV3 - Le Labo
Jess Day - Affection
Naomi Keyte - Travelling Woman
Stellie - How Do We Look So Good?
St Jacques - In Faith
BEST NEW ARTIST (Presented by WOMADelaide)
Cat Lucky
EAST AV3
SEABASS
Siberian Tiger
Slowmango
BEST GROUP (Presented by Derringers Music)
EAST AV3
Slowmango
SEABASS
TOWNS
Venice Queens
Wing Defence
BEST ABORIGINAL/TORRES STRAIT ISLANDER ARTIST (Presented by Centre for Aboriginal Studies in
Music - CASM)
J-Milla
Jessica Wishart
Nathan May
Sonz of Serpents
Tunu
BEST SOLO ARTIST (Presented by Adelaide Festival Centre)
Jess Day
Kaurna Cronin
Lonelyspeck
Motez
Ollie English
Stellie
BEST RELEASE (Presented by themusic.com.au)
EAST AV3 - Rugrats
Lonelyspeck - Abyssal Body
Motez - Soulitude
Ollie English - Reality of Love
Wing Defence - Friends
BEST MUSIC EDUCATOR (Presented by SAMII)
Grayson Rotumah
Kultar Ahluwalia
James Alberts
Naomi Keyte
Nick O'Connor
BEST INNOVATION (Presented by CityMag)
Mosaic Audio Visual
Play/Pause/Play
Space Jams
Sunny Side Uploads
Thursday Night Knock Offs - Sparkke at the Whitmore
WheatyLIVE
PEOPLE'S CHOICE AWARDS FINALISTS
BLUES & ROOTS (Presented by Radio Adelaide)
JimmyBay
Lucky Seven
Ollie English
Rat Tamango
The Streamliners
COUNTRY (Presented by Grace Emily Hotel)
Cassidy Rae Gaiter
Cookie Baker
Jessica Wishart
Matt Ward
Nathan May
ELECTRONIC (Presented by Moshtix)
Hartway
Jethro
Lonelyspeck
Motez
Zac Eichner
EXPERIMENTAL (Presented by Ancient World)
Heinous Crimes
Slowmango
SODA
Sons of Zoku
The Empty Threats
FOLK (Presented by The Wheatsheaf Hotel)
Katie Pomery
Loren Kate
Naomi Keyte
Siberian Tiger
Tom West
HEAVY (Presented by Enigma)
Alt.
Dirty Pagans
Hidden Intent
NO NO NO NO NO
Terminal Zero
HIP HOP ( Presented by The Gov )
DyspOra
East AV3
Laitisi Diesa
Outside Lines
We Move Like Giants
JAZZ (Presented by Elder Conservatorium)
Alex Taylor
Django Rowe
[email protected] Description
Nick Pennington & Angus Mason
The Boys Club
POP (Presented by Jive)
Ashton Fraser
Germein
Jess Day
MANE
The Montreals
PUNK (Presented by Three D Radio)
Bitchspawn
Chelsea Manor
Collateral Damage
The Lizards
Wing Defence
ROCK (Presented by Crown and Anchor)
Horror My Friend
Oscar the Wild
SEABASS
TOWNS
Venice Queens
SOUL/FUNK/R&B (Presented by Woodville Town Hall)
Elsy Wameyo
Isaac Thomas
Legs of Ivar
Leni
Wanderers
FOR MORE BREAKING NEWS CLICK HERE