Take Five: Top 5 Podcasts By Emily Ulman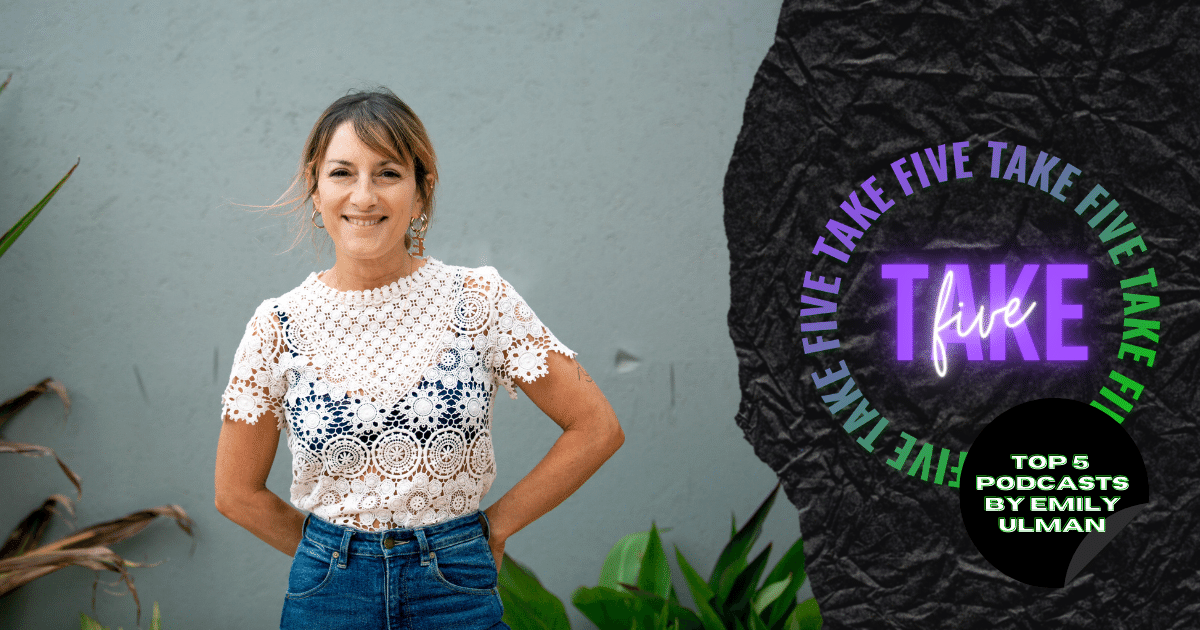 With social distancing and self-isolation measures still in place across Australia, it comes at no surprise that the popularity of the humble podcast has increased exponentially. We had a chat with multi-talented venue booker, producer, musician, publicist and director/programmer of the online music festival Isol-Aid, Emily Ulman to uncover what podcasts she's been getting into over iso. Check out Emily's top picks below.
The things that I want to share with you took some deliberating. I whittled it down to, My top 5 videos of plane landings, Top 5 pinball machines, Top 5 favourite Western Bulldogs players, My top 5 tops. But in the end, I ignored all of those ideas and settled on podcasts.
You know how some people are fanatical about counting steps? Are literally joined at the hips to their fit bits or pedometers? You know the types, that take their step counters EVERYWHERE, even to the toilet so as not to miss a single step? OK, I was this person until I lost my Fitbit at Meredith one year.
Well, that's also me with podcasts. I'm rarely not listening to a pod. I mean I listen to a lot of music too, and often both concurrently, but shower, dishes, ride, walk, work, I'm listening to a podcast. I also run a Facebook group called Podclass with a dear friend, Bec, where people share their latest listen, discuss their favourite podcast host, their grievances, share their own podcasts, and occasionally we even get together and chat about a particular podcast - like a book club but for podcasts. The group is incredibly wholesome and nerdy and amazing. OK, so in no particular order (after I finally whittled my list down to 5 and a bit):
Caliphate
Caliphate is a 2018 New York Times podcast by exceptional journalist Rukmini Callimachi, reporting on the Islamic State and the fall of Mosul. The 10 episodes delve into, among many other things: the nature of reporting on ISIS, recruiting, the inhumane practices of the terrorist organisation (not for the faint-hearted), as well as bringing into sharper focus a threat that we've otherwise only known about in the vaguest sense. Caliphate does so with deft intricacy, detail and sensitivity. This podcast isn't always easy listening, but it's extraordinary; a masterclass in storytelling.
Caliphate finds itself back in the news at the moment, as one of the subjects of the podcast, Shehroze Chaudhry, has, 7 hours ago at the time of writing, been charged by Canadian Police "on suspicion of lying about having joined Islamic State and committing execution-style killings." Questions surrounding his story's authenticity are raised in the podcast, and this arrest adds another fascinating layer to this story.
Fan Grrrls
One of the first things you'll know about me, especially during football season, is that I am a one-eyed, red white and blue bleeding, barking mad, Western Bulldogs AFLM/AFLW supporter.
My moods are dictated by the results of any game regardless of the round, I have Google alerts set up for absolutely anything and everything to do with players, ex-players, staff, mascots, club-related everything. I wear my Doggies colours all year round, I have a premiership tattoo; in fact, I think about football and the Bullies as much as literally anything else work, food, sleep, survival.
So of course my podcast queue is heavily punctuated with Aussie Rules content. But my fave and top spot of my pod queue position is reserved for Fan Grrrls. This podcast is like overhearing an awesome conversation between 3 (Tigers-centric) friends at the pub. Joined by the occasional guest, Amy Charleston, Sarah Smith and Brodie Lancaster chat about footy in a funny, sensitive, human way, and if one of them doesn't get emo at some stage during an episode, you're listening to the wrong poddy.
Brown Girls Do it Too
Brought to us by Asian BBC, Brown Girls Do it Too is a six-episode sex podcast hosted by three millennial British women of second-generation Bangladeshi, Indian and Iranian heritage. Poppy Jay, Rubina Pabani, and Roya Eslami are hilarious, whip-smart, and interestingly did not know each other before this podcast started. They cover everything from losing their virginity to oral sex, and each episode is basically a huge overshare. It's refreshing to hear non-white voices and experiences spoken about so candidly, and again it's like eavesdropping on an incredible conversation you want to keep listening to, if not be part of.
Birds Eye View
You're no doubt already listening to Ear Hustle, about California's San Quentin State Prison, (yes this is really a sneaky way of getting in a 6th podcast plug), but have you listened to Bird's Eye View? This 10-part podcast is by and about the women in Darwin's State Correctional Centre, and each episode focuses on one or more of the inmates while also weaving in larger overarching themes of community, love, survival, bloodlines etc. Birds Eye View is hilarious, poignant, sad, informative. It has everything, including a banging soundtrack featuring Emily Wurramara, Stevie Jean, Caiti Baker and many more.
Moonface
A fiction podcast! I recently devoured 'Moonface' by James Kin. This six-episode podcast centres on Korean American Paul, (Joel Kim Booster) a man in his 20s living at home with his mother, (Esther Moon). They share blood, space and history but they don't share a language.

Paul is a first-generation immigrant able to speak only very little Korean, he's a gay man exploring adulthood, a dream of working in radio, friendships and the difficulties of being in an honest relationship with, and coming out to, his non-English speaking mother.

Moonface is James Kim's debut fiction podcast, it is gentle, spacious and evocative. It also has an impeccable sound design and a soundtrack featuring music from Clairo, Big Thief, and The Pains of Being Pure at Heart. Do it.
Want to learn more about Emily's virtual festival Isol-Aid? Find out all you need to know HERE.
FOR MORE BREAKING NEWS CLICK HERE